eCommerce Web Designer Ireland
eCommerce allows consumers to seamlessly exchange goods and services without barriers of time or distance. Electronic commerce has expanded rapidly in recent years and is predicted to continue at this rate, or even accelerate. In the near future the boundaries between "conventional" and "electronic" commerce will become increasingly blurred as more and more businesses move larger sections of their operations onto the Internet.
Some companies in Ireland with eCommerce sites will often want to require users to create an account in order to make a purchase, since this allows for follow-up communication that encourages future sales, as well as tracking customers' demographic information to analyse sales.However, it's important to remember that not everybody wants to go through the process of creating an account in order to buy a product.
Repeat customers will want to register and get the benefits of having an account, such as saving their information for future purchases and receiving notifications about upcoming sales, but it's still a good idea to provide an option for people who just want to make a one-time order. It is perhaps best when designing an e-Commerce website to offer the option to create an account or register once the first transaction has been completed thus not endangering the sale.
Web Designers tip: Since you'll still want to try to encourage users to create an account, you might try to design the purchase process to allow users to complete a guest checkout, and upon completion, allow them to create an account using the information that they just entered.
Our Approach to eCommerce Web Design
Advanced
technology
When developing an online shop we use the most up to date technology available. This ensures your new website will run efficently and
Top
Performance
To both impress site visitors and appear in the SERP's your site will need to be fast, easy to navigate and offer a great user experience.
25 + Years
Experience
With vast experience in both offline and online marketing we can help propel your online presence and convert sales.
In order to do better than your competitors you first need to know what you are going to be up against. Then we can figure out how to do it better. We take stock of the competitors and their online presemce which feeds into our planning phase.
Having thoroughly assesed the competition, only then can we plan the style, site layout, menus structure, product display, colour schemes, fonts and UX.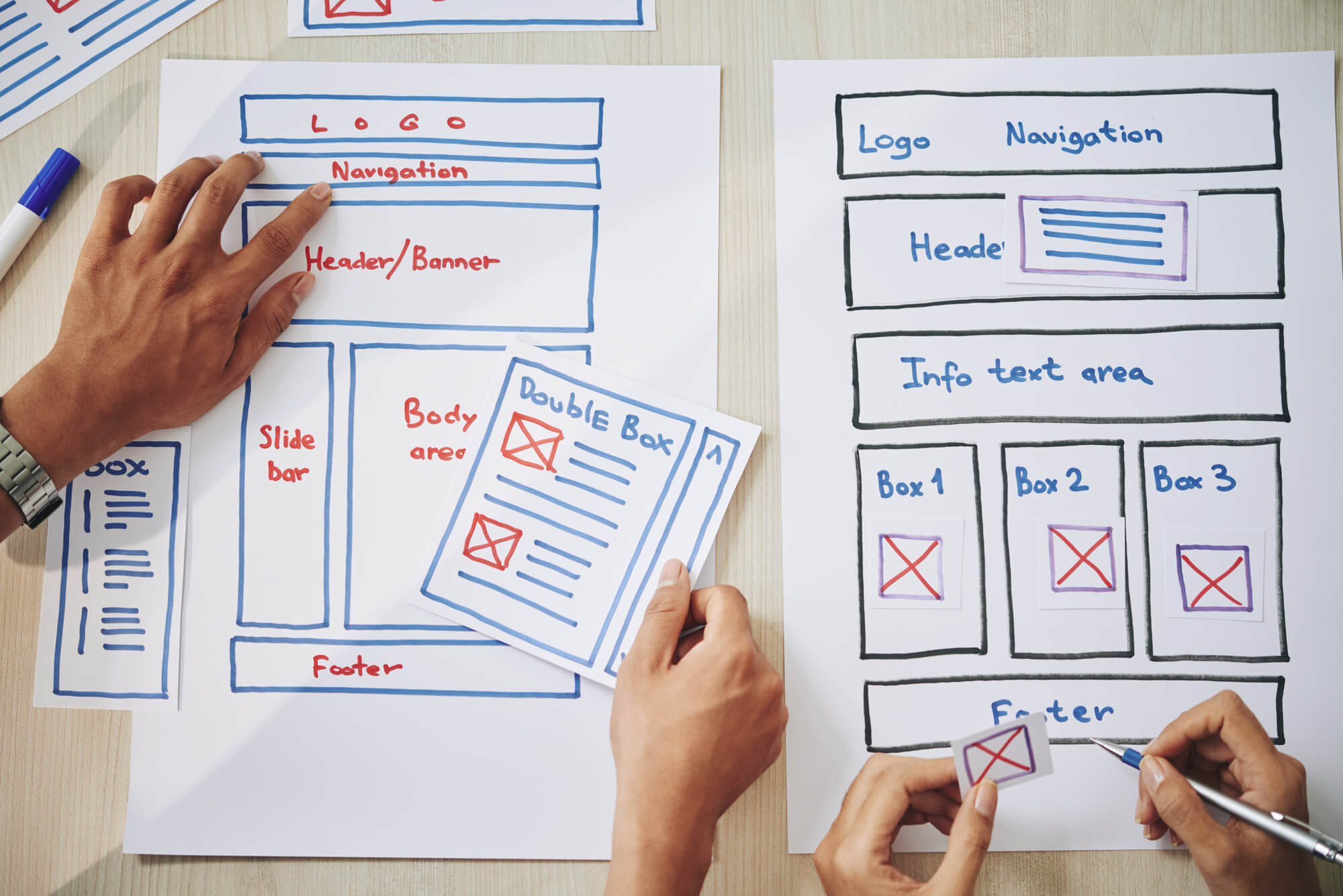 A Hassle-Free Checkout Process
Create a checkout process that makes it effortless for your visitors to purchase your products through your e-Commerce web site.
Research has proven that the more cluttered and over complicated an online checkout page becomes, the more likely a customer who was willing to make purchase will just exit your site. As well as maintaining a simplified checkout process, work to make your customers clearly aware of extra costs such as flat, expensive shipping rates that could hamper a potential sale.
Web Designers Tip: Display trust symbols like Pay Pal, VeriSign or McAfee badges prominantley on your website in order to indicate that your checkout process has been verified and is secure in order to help ease any fears that potential customers could have when shopping online.
Let your customers know that your website is secure and they will be more likely to complete the transaction. Sounds simple? It is but too many websites do not spell it out for the customers that this is in fact the case and failure to do so leads to increased shopping cart abandonment.
All eCommerce sites should support SSL to encrypt information that needs to remain secure.This is especially true for credit card and payment information, but also any customer information like address, phone number, email, etc.
Customers will have an expectation that their personal information will remain secure when they make a purchase online, so ensuring that SSL is implemented is not just a good idea, but something that is absolutely essential for ensuring that your customers trust that their information will remain secure.
In addition, security is required to meet PCI compliance for any business which accepts credit card payments.
Web Designers tip: Do not store credit card details in your site's database. While it might seem like a good idea to keep card information on file to make purchases easier for customers, keeping this information stored on your servers is a huge security risk, and if your database is compromised, you will be liable for that loss.
We will ensure your orders are being recieved and processed and your online payment system is working correctly. Once we have fully tested your new eCommerce website it is time to launch and promote.
Secure
technology
Included with each site is a SSL Certificate, Payment Processing Logos and Security Badges.
Easy Product
Management
Easliy manage your inventory. Stock levels, daily - weekly - monthly sales and changes to prices can all be managed by the click of a button.
Mobile
Friendly
Your online store will be fully responsive and therefor perform across all devices from mobile and tablet to laptop and desktop.
We can design and develop a professional online shop at an affordable price. Your eCommerce website will have a quality feel to it and will help engage your site's visitors. Well planned content and quality images are used.
Engaging your website visitors is hugely important when it comes to e-Commerce website design. In addition, it's a good idea to utilise features like autocomplete to help users find popular products or items related to their searches.
We use the most up to date web design technology thus ensuring your new website works on multiple devices – mobile, tablet, laptop or PC. You can be sure that your customers can view the products on any device and easily and securley complete their purchase.
With so many people using mobile search these days a mobile friendly website is an absolute must. We know the importance and design with this in mind – it can't be an after thought.
Statistics show that 30% of visitors to eCommerce sites use search to find the products they are looking for, so it's important to make sure the 'search button' functionality rather than the menu so make sure it is available and easy to find.
Faceted search is another important way to help users find products. This functionality allows them to narrow their search in a variety of ways, including by department, size, price range, manufacturer, etc. Providing this functionality gives users more power to find what they need, letting them refine their searches to exactly what they are looking for.
Quality images or videos for the purposes of product display is hugely influential in whether or not the customer decides to proceed with the purchase or not. In the absence of the chance for the buyer to touch, feel or try on this, essentially is your sales pitch.
Set clear goals on every page – Each and Every page of your website should have a defined purpose.
For example, your homepage should entice users to click through to your categories, or better yet, straight through to a product page. From there, your product page should answer any lingering doubts users might have and convince them to make a purchase.
Your shopping cart page should simplify the checkout process and have a feature like a follow-up email that reassures shoppers that the transaction was successful. Keep this in mind when planning out the various types of pages that you'll have on your ecommerce website.
Clear, honest and concise information regarding package & posting, delivery times, returns, refunds and other information relating to your policies must be easlity accessible. In addition a FAQ's section can be very helpful and cut down on repetetive calls or emails to your business. 
List contact information! Make it very simple and enticing for customers to contact you so that it's easy for them to get in touch with you directly. You do not want them to abandon a purchase if they have concerns about being able to get a hold of you should there be a problem – you should not appear to be some faceless entity that cannot be contacted.
If you don't display your contact information visibly for your customers and they have to scour your site for contact information, it could lose you a sale.
Outside of listing your location and phone number, you can also provide FAQs, product reviews, or comments for users to read, as well as user-generated content like customer testimonials that highlight satisfied customers that use your products.
Web Designers Tip: Build brand loyalty! Look for opportunities to bring users back to your website whenever possible. Encourage them to sign up to your newsletter so that they can receive details on discounts, promotions and sales.
If your site is slow, you're likely to lose customers. Statistics show that at least 40% (variations between industries) of users will abandon a website that takes more than 3 seconds to load. This is especially true for mobile users, who are often multi-tasking as they access e-Commerce websites and are more likely to move on to another website if a site is too slow.
In order to keep from losing customers due to slow load times, you'll want to make sure your site is optimised to run as quickly as possible.
Web Designers Tip: Combining a site's JavaScript or CSS resource files into single files will speed up their interaction with the site, because users will only have to download one JavaScript file or style sheet rather than five or ten. Compress images, which will allow them to provide the best visuals at the smallest possible size, reducing download times.
Use caching to reduce the time spent sending data between the web server and the database server – there are various solutions available for this.
We have some of the best available technology at our disposal.